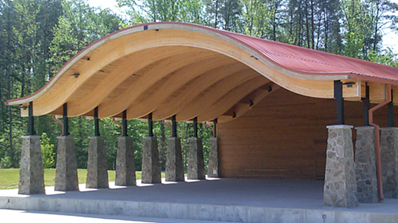 THE MILLS
THE MILLS features the most dramatic laminated wood curved beams of any pavilion in the industry. The original structure as featured here, measures 58' in width, and 49' in depth. The Mills can be re-sized to specifically meet the requirements of your project.
Photo Gallery
SHELTER SIZE
The size of THE MILLS shelter is expressed by the width and the depth of the roof area. For example, the roof of a 50'x36' Mills Shelter is .50" wide and 56" deep. The pressure treated columns are spaced 8' intervals in the length direction of the shelter. The roof decking extends past the beams up to 3' without looker supports.
THE MILLS PACKAGE COMPONENTS
COLUMNS, EITHER LAMINATED WOOD or STEEL
Laminated wood columns are fabricated with Southern Yellow Pine, with dimensions engineered to sustain required load. The lumber is treated prior to gluing which affords full penetration of the core of each column.
If specified by EnWood's engineers, steel columns will be designed to sustain required load.
EXTERIOR CURVED BEAMS
Pressure treated curved laminated wood beams that rest on the columns. Steel plates and bolts that connect the beams to the columns.
INTERIOR CURVED BEAMS
Laminated interior curved beams. Steel connections and bolts that connect the beams.
ROOF DECK
2x6 or 2x8 (nominal sizes) #1 grade, Southern Yellow Pine wood decking, tongue and groove, is nailed to the top of the beams. Galvanized nails to attach the deck to the beams.
FASCIA
Pressure treated, two inch, #1 grade Southern Yellow Pine, fascia board to be attached at the eaves. Galvanized nails to attach the fascia to the beam ends and the deck.
FELT & SHINGLES
One layer of #30 roofing felt to be applied on top of the wood deck. 25 yr. 3-Tab fiberglass shingles, standard color Autumn Brown, other color options available upon request.
WALL DECK
Pressure treated, two inch(2") #1 grade, southern Yellow Pine, tongue and groove wood decking. Galvanized nails for attaching the wall decking
---
ROOF PITCH
The standard radial curved roof with < 1:12 end slopes.
DESIGN LOADS
The typical design load allows for:

12 pounds per square foot dead load
30 pounds per square foot live load
20 pounds per square foot wind load. (Equates to 100 MPH)
There are variables that affect the design sizes of the members, specifically the columns and the curved beams, and those variables generally include live load conditions that are usually location specific. Building Codes normally dictate the applicable loads to be applied in the member size designs.
PRESSURE PRESERVATIVE TREATMENT
As noted in the component list above, the wood arches are fabricated with lumber pressure treated (prior to gluing) with CCA retention for "ground contact"). Fascia boards are treated with MCA/CCA. All treatment per AITC 109.
The treated Glulan can be stained or painted.
FOR DETAILED SPECIFICATIONS, PLEASE CLICK ON THE SPECIFICATION LINK