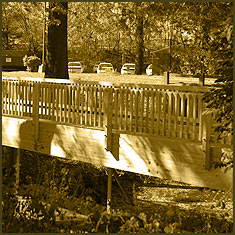 EnWood Structures is an industry leader in laminated wood bridges, and timber bridges . EnWood has a unique ability to engineer laminated wood girder style bridges with a clear span of 100'. Over the years EnWood Structures has received industry wide recognition for design innovation and precision manufacturing, including the prestigious National Timber Bridge Association Merit Award.
EnWood's laminated wood bridge designs include pre-fabricated glued laminated wood bridge packages for:
PEDESTRIAN BRIDGES
GOLF BRIDGES
LIGHT VEHICULAR BRIDGES
HIGHWAY VEHICULAR BRIDGES
EnWood's laminated wood and timber bridges are manufactured with #1 grade Southern Yellow Pine. All lumber is pressure treated prior to lamination assuring full treatment penetration to the core of each laminated component. All steel connections are fabricated at the EnWood facility then hot-dipped galvanized. These processes greatly extend the life of the bridge over other treatment methods. EnWood's manufacturing practices are under the guidelines of The American Institute of Timber Construction.
The beauty of an EnWood Structures' bridge is more than the quality components. The real beauty is the level of expertise the EnWood bridge experts share with each project: technical and design knowledge acquired with years in the industry and numerous bridge projects successfully completed.
TYPICAL GLULAM DESIGN CONFIGURATIONS
Pedestrian/Light Vehicular
Girder Type
Arch Suspension
Bowstring Truss
Covered Bridges
Pedestrian/Light Vehicular
Girder Type
Arch Suspension
Bowstring Truss
Covered Bridges